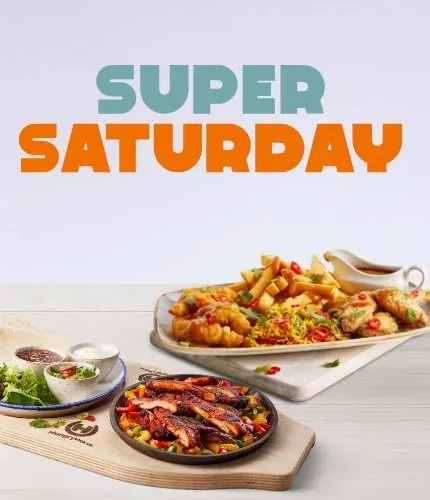 Saturday Pub Deals
Make your Saturday extra special, with one of our Super Specials at an epic price!
Discover our Super Specials:
NEW Jerk chicken & wings
Half roasted chicken seasoned with authentic Dattie's Soul Food™ jerk rub, plus crispy chicken wings tossed in jerk sauce. Served with savoury rice, coleslaw, spicy herb garnish and Caribbean sauce.
NEW Mediterranean seabass
Grilled seabass fillets with a tangy Neapolitana sauce, mixed green vegetables and creamy garlic mash.
Crown of burgers
This one's for the burger lovers. A crown of slider burger buns with mayo (2 cheeseburgers, 2 bacon cheeseburgers, 2 Southern-fried chicken goujons). Served with fries.
NEW Bangin' katsu banquet
Chick this out. Chinese-style salt & pepper chicken strips and wings, served with savoury rice, our famous salt & pepper fries and a jug of katsu curry sauce for dipping.
NEW Tandoori chicken sizzler
Strips of grilled tandoori chicken, peppers and onions on a sizzling skillet, served with tortilla wraps, mango chutney, mint yoghurt and a chilli, spring onion and coriander herb salad.
Crispy chicken sandwich
A sandwich with swagger. Garlic ciabatta filled with crispy fried chicken, red onion and nacho cheese sauce. Served with fries and onion rings.
Chicken New Yorker
A larger portion of roast chicken breasts topped with smoked streaky bacon, melted cheese and Texan BBQ sauce. Served with fries, onion rings, coleslaw and peas.
We love a good deal!
At Hungry Horse we're dedicated to bringing you great quality dishes without hurting your wallet, that's why we give you a great deal every day of the week.
Book a table