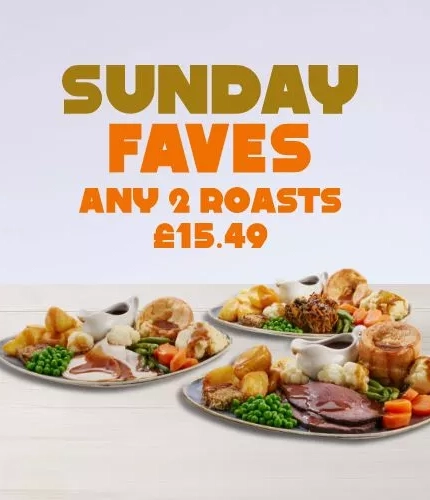 Sunday favourites for the whole family!
Sundays are all about the family get together. What better way than to enjoy a selection of dishes included in our 2 for £15.49 deal?
Classic roasts
Nothing says epic quite like our classic Sunday roasts - piled high and ready to make your weekend. All served with roast potatoes, mashed potato, carrots, peas, green beans, cauliflower, sage & onion stuffing, Yorkshire pudding and plenty of gravy.
Choose from:
Topside of beef
Hand-carved topside of beef. Lean, full of flavour, and served with horseradish sauce.
NEW Roast turkey
Tender and juicy, this favourite deserves a place at the table all year round!
Cashew nut roast
Packed full of flavour with roasted cashews, butternut squash, and sweet potato. Served with veggie gravy.
NEW Topside of beef Yorkie wrap
The easy way to eat Sunday. A Yorkshire pudding wrap filled with hand-carved topside of beef served with roast potatoes, horseradish, and gravy.
Sundays made super special
Take your Sunday to the next level with a plate of epic proportions - packed with even more meat, even more roast potatoes, even more veg and an extra Yorkshire pudding for an extra £2!
Kid's Sunday
A smaller portion of our classic roast.
Topside of beef
NEW Roast turkey
Cashew nut roast
We love a good deal!
At Hungry Horse we're dedicated to bringing you great quality dishes without hurting your wallet, that's why we give you a great deal every day of the week.
Book a table