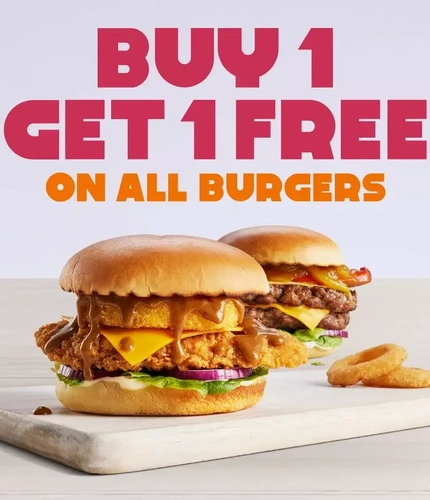 Two burgers for the price of one, every Friday
A seriously juicy deal! All burgers are served in a toasted brioche bun with mayo, red onion and lettuce with onion ringsº and fries.
Choose any two for the price of one!
Quadzilla
Double bacon cheeseburger topped with 2 buttermilk chicken breasts and nacho cheese sauce.
NEW The Home Run
This one's for Americana lovers. A double cheeseburger topped with a grilled authentic hotdog and fairground onions.
NEW The Gravy One
Nobody puts gravy in a corner. A Southern-fried chicken burger, hash brown and cheese smothered in our speciality burger gravy with extra gravy on the side for dipping!
Korean BBQ chicken
Buttermilk coated chicken breasts tossed in Korean BBQ sauce, with lettuce, sweet chilli coleslaw and a herb garnish. Served with onion rings, our famous salt & pepper fries and a spicy herb garnish.
Smokin' Jack
Beef burger with bacon, Monterey Jack cheese, sautéed red onions and Texan BBQ sauce.
NEW Beyond Meat™ stack
A poppy seed bun layered with Texan BBQ sauce, lettuce and red onion, and topped with 2 Beyond Meat™ burgers and sautéed Texan BBQ red onions. Served with fries.
Southern-fried chicken burger
Bacon cheeseburger
Cheeseburger
We love a good deal!
At Hungry Horse we're dedicated to bringing you great quality dishes without hurting your wallet, that's why we give you a great deal every day of the week.
Book a table