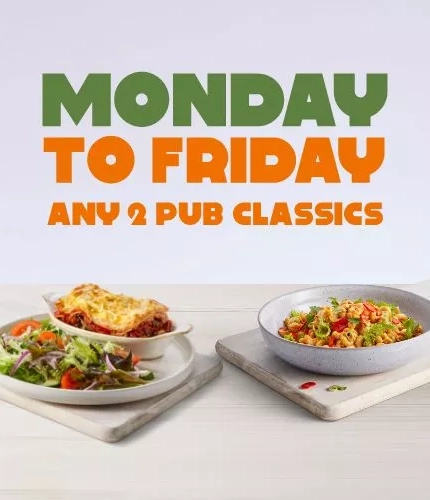 Save on pub classics with our Two For meal deal
Grab a friend and grab a great deal! From Monday to Friday, choose any two classic dishes for one great value combo price.
And with 13 of your favourites to choose from you can be sure that you'll both find something you love.
What's on the menu?
Chicken parmigiana*
Breaded chicken escalope topped with melted cheese and Neapolitana sauce, served with baked jacket potato and fresh garden salad.
*Chicken parmigiana available in the '2 for' promotion with a £2 supplement.
AWARD WINNING Steak & Ruddles ale pie
Tender beef in a rich ale gravy served with peas and your choice of chips or mashed potato
Classic fish & chips
Hand-battered fish & chips. Plant-based option available OMNI™ plant-based fishless fillets coated in a golden batter. Both served with peas or mushy peas.
Classic chicken New Yorker
Roast chicken breasts topped with smoked streaky bacon, melted cheese and Texan BBQ sauce. Served with fries, onion rings and peas.
NEW Roast veggie lasagne
A classic roasted vegetable lasagne, served with a fresh, dressed garden salad. Add garlic ciabatta for £1.50.
Chicken tikka masala
Served with basmati rice, poppadom and mango chutney.
Classic beef lasagne
Served with our fresh garden salad. Add garlic ciabatta for £1.50.
Classic breaded wholetail scampi
Whitby scampi with chips and tartare sauce. Served with peas or mushy peas.
Mushroom & ale pie
Roasted mushrooms, onion and tarragon in a suet style pastry. Served with chips, peas and gravy.
Full English breakfast
Pork sausage, rashers of back bacon, fried free-range egg, mushrooms, baked beans and hash browns.
Mac 'n' cheese
Topped with cheesy breadcrumbs. Served with our fresh garden salad. Add garlic ciabatta for £1.50.
NEW Mexican pasta salad
Lightly spiced pasta salad mixed with salad leaves and topped with a spicy herb garnish.
Choose from: Roast chicken breasts / Grilled salmon fillet.
Vegetarian option available.