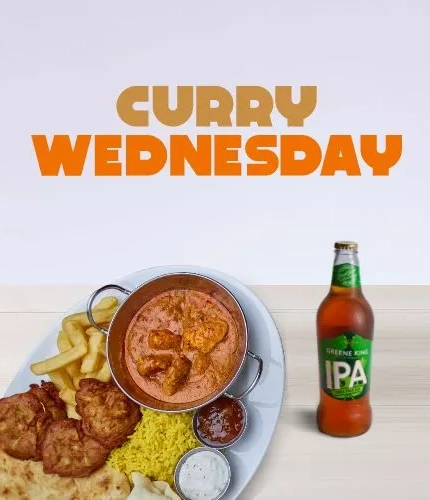 A curry and a drink for under £10!
What could be better for a mid-week treat? Get your feel-good fix with a tasty curry and selected drink – available on Wednesdays only!
What's on the menu?
All our curries are served with pilau rice, a poppadom and mango chutney.
Beef Madras 🌶 🌶 🌶
Slow-cooked diced beef in an onion and coconut sauce, flavoured with South Indian spices.
Chicken Korma 🌶
Tender pieces of chicken breast in a mild, sweet, creamy coconut, coriander and cardamom sauce.
Chicken Jalcrazy 🌶 🌶 🌶 🌶
Marinated pieces of chicken breast in a hot onion and tomato jalfrezi style sauce, finished with super spicy Indian finger chillies.
Chicken Tikka Masala 🌶 🌶
Seared chicken breast cooked in a medium spiced masala sauce.
Lamb Rogan Josh 🌶 🌶
Tender pieces of marinated lamb in a fragrant cumin and cardamom flavoured sauce
Chickpea and sweet potato 🌶 🌶
A mix of chickpeas and sweet potato chunks in a medium spiced sauce
Hungry for more?
Upgrade to a big plate special curry for only an extra £3.00

Our big plate curries are served with pilau rice and 3 onion bhajis with chips, naan bread, poppadoms, mango chutney and a yoghurt & mint dip.
Drinks
You've chosen your curry, now add your drink. Choose from a selection of popular beer, wines, spirits and soft drinks.
Pints
Carlsberg, Carling, Fosters, Strongbow, Belhaven, Guinness
For an extra 50p: Coors Light, Strongbow Dark Fruit, San Miguel
Bottles
Blue Moon, Ice Breaker, Heineken, Peroni 0%
Wine
125ml El Mazo White, 125ml El Mazo Red, 125ml El Mazo Rose, 125ml I Heart Sauvignon Blanc, 125ml I Heart Blush Pinot Grigio, 125ml I Heart Cabernet Sauvignon
Soft Drinks
Draught: Fanta Orange, Dr Pepper Zero Sugar, Dr Pepper Zero Sugar, Coca-Cola, Diet Coca-Cola.
Can: Vimto