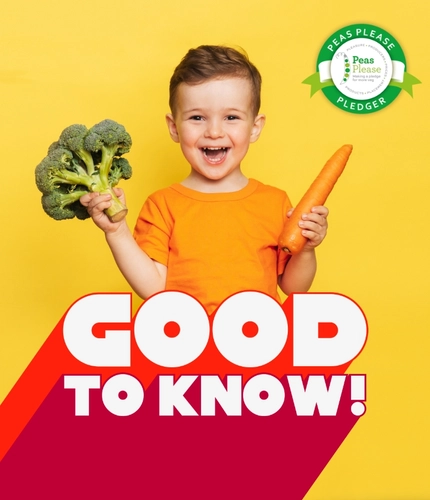 Hungry Horse – Children's Nutritional Information
We know how important it is to make healthy and informed meal choices where little ones are concerned, so here is where you can find our full nutritional information for our Kids' Menu.

Hungry Horse is part of the Greene King family. As a leading pub retailer, Greene King endeavours to deliver the highest quality food offer to our guests. This means that we only source our products from a supplier base of fully accredited and quality assured manufacturers.

We continue to review the nutritional profile of our products and have made positive steps towards implementing healthier menu changes through product reformulations and menu development.

Whilst you can find our key nutritional statements and commitments on our menus, to ensure full visibility we have listed some additional information below.

Peas Please Pledge

We're committed to continuous progress when it comes to including more veg on the plate in our kids' meals. We are working with The Food Foundation to support their Peas Please pledge. We want to encourage little ones to eat more veg daily, which is why our children's main meals include at least two portions of veg. To find out more, visit: https://foodfoundation.org.uk/initiatives/peas-please

Meal sizes for all

As a responsible food provider, we appreciate that some of our customers require larger portion sizes, so we have built our Kids' Menu for both smaller and larger appetites. A number of our dishes also have pick and mix options for you to create your own way.

Sourcing

We care about where our ingredients come from and give top priority to sourcing our food ingredients responsibly. This means the potatoes we use for our chips plus our garden peas are British, our salad leaves are UK grown during the British growing season and our beef is 100% British or Irish.

Our suppliers are committed to working towards 100% deforestation and conversion free soya sourcing by 2025. Our farms comply with GLOBALG.A.P standards and commit to 100% deforestation and conversion free sourcing.

We source our products from a supplier base of fully accredited and quality assured manufacturers.

Please note that as our sourcing is updated in line with availability, we may sometimes need to update our statements more regularly than our menus are printed. All information is correct at time of print, but for up to date sourcing information, please refer to this web page.
Sugar

All of our children's drink options contain no added sugar. In line with the publication of the 'Sugar reduction: achieving the 20%' report published by PHE in 2017, we are committed to reducing the sugar content of our food products.

Fats

None of our dishes contain any hydrogenated or trans-fats. Greene King is partners in the Department of Health's Responsibility Deal. Set up in 2011, this is an innovative association between the government and industry in which we have committed to pledges on artificial trans-fat removal and salt reduction.

Eggs

All shell eggs used in Hungry Horse pubs are from free-range hens, assured under the RPSCA Welfare Standards for Laying Hens, and carry the British Lion mark. Laying hens are also assured under the BEIC Code of Practice for Lion Eggs.

Meat

Greene King is committed to the long-term sustainability of agriculture. For agriculture to be sustainable it must employ farming techniques that provide benefits to the environment, to the economy and to society. This means maintaining or improving public health, enriching human communities and promoting animal health and welfare.

All of Greene King's suppliers comply with EU and UK animal welfare legislation including adherence to the Five Freedoms and sustainable fishing and statutory livestock codes of practice (including specific animal welfare standards for each species) as a minimum.

All non-nutrient feed additives such as antibiotics and exogenous enzymes are not permitted in the supplier's production of livestock for meat and poultry.

All pork sausages used in Hungry Horse pubs are sourced from only UK and Irish farms. All of our beef is 100% Irish.

All of our pork, beef and chicken is assured under a third-party accreditation scheme that is approved by Greene King.
Fish

All Fish Fingers on the Hungry Horse menu are MSC certified. The blue MSC eco-label is the world's most recognised label for sustainable seafood.

Our wild caught fish is accredited under one of the following assurance schemes: Food and Agriculture Organisation Code of Conduct for Responsible Fisheries, Marine Stewardship Council Chain of Custody, and Friend of the Sea.

All farmed finfish is sourced from farms that are assured under the following schemes:
GLOBALG.A.P. Aquaculture Standard
Aquaculture Stewardship Council (ASC)
Best Aquaculture Practices (BAP)
All fish will not be listed as critically endangered, endangered or vulnerable on the International Union for the Conservation of Nature (IUCN) Red List for Threatened Species.
Vegan / Vegetarian

We offer a range of vegetarian and vegan options on our Kids' Menu.

Our Beyond Burger™ contains no GMOs (genetically modified organisms), soy or gluten and is made from 100% plant-based protein.

Our Impossible™ nuggets are made with soy protein and contain 0mg of dietary cholesterol.

Our Quorn™ sausages are made from mycoprotein – a natural source of protein which is both low in saturated fat and high in fibre.

Our Birds Eye Green Cuisine Omega Fish-less Fingers are a source of protein and Omega-3, have no added colours, preservatives or taste enhancers, and are suitable for vegans.

All ingredients and additives used within these products is suitable for consumption by vegetarians.
Additives

We recognise the importance of food quality and safety and aim to ensure that the high standards of our products are not compromised. We will continue to work towards removing, where possible, any artificial additives considered by the EU as a cause of concern and which may be subject to change.